The Lady Grey Tearoom is a traditional English tearoom serving a wide variety of home baked cakes and pastries. Enjoy them with our superb range of speciality teas and beverages in a delightful courtyard setting

Our little tearoom has been highly rated by Tripadvisor for many years now in recognition of our high level of customer satisfaction. We have also been awarded their Certificate of Excellence for 2014, 2015, 2016 and now 2017 too!

We are open everyday throughout the summer months from 10 o'clock in the morning, our little tearoom has its own little courtyard seating area, perfect for better weather days.

You will find us just opposite the market area in the High Street, in The Little Barn Courtyard. We are a bit tucked away, out of sight, but that's why our customers often refer to us as "A Hidden Gem".
The Chiltern's in Colour
As the last days of Indian Summer give way to Autumn, these beautiful hills are draped with the most wonderful golden leaves of its beechwoods.
September and October are some of the best months to enjoy our spectacular countryside and everywhere is so much quieter now the children are back to school.
Once again it was YOU, our many delightful and loyal customers, that have helped to make us one of the most popular venues in the area. We cannot thank you enough, especially those that submitted the glowing reviews of our business on Tripadvisor and Google.
The cyclist & walkers are still out in force enjoying our lovely market town and the impressive Chiltern Area of Outstanding Natural Beauty. There is so much to do if you like the countryside and some of the country's best loved footpaths and ancient trails can be reached within minutes of our tearoom.
The Lady Grey looks forward to giving you all a very big, warm welcome from Debbie and the girls xx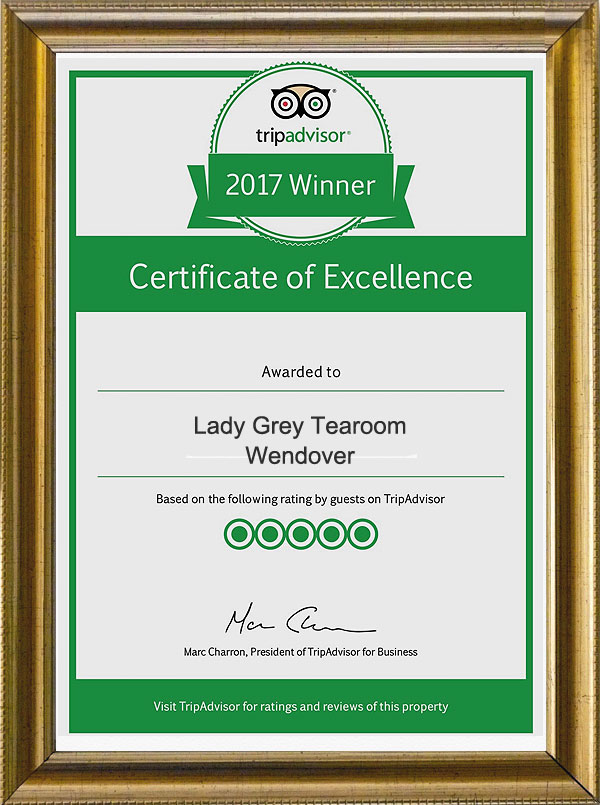 "Fabulous gluten free cakes"
I'm writing to recommend this delightful cafe to everyone but especially coeliacs and those intolerant to gluten. There were a number of gluten free cake options and you can also order gluten free scones for a cream tea. For those who are lactose or dairy intolerant, the kind and smile staff also had soya milk for me for my tea. A charming spot to rest from our cycling. Many thanks to the Lady Grey staff.
"The best afternoon tea ever."
We visited The Lady Grey Tea Rooms on Saturday afternoon and were so impressed we went back on Sunday. What a fabulous little tea room, tucked away behind the antique centre in the middle of Wendover, so pretty and restfull. The proprietor has apparently been supplying this establishment with Cakes and other fare for some time and then took over the lease at the beginning of April.
"What a find!!"
I was out with my sister and a couple of friends last Friday, and we set about finding a tea room for a late morning tea and cake. We regularly try different places for a catch up, but we will be looking no further now- this place is the best! Cute décor, most friendly and personable staff, and (most importantly) delicious cakes! 
Tripadvisor 2017
The Lady Grey staff are delighted that our customers have helped us to achieve our Fourth Consecutive Annual Tripadvisor Excellence Award.
When you receive recognition by your clientele there is no better accolade, so thank you so much for your support!
"Lovely service and amazing cakes"
My Granny and I have been to Lady Grey three times in the past month for a spot of lunch over the weekend and have been bowled over each time.
On all occasions we've been served quickly with a smile, and we've enjoyed everything we have managed to try so far — delicious sweet and savoury scones, best quiche I've ever had, and really special cakes.
So pleased we've found it – we will be back, hopefully very soon! Thank you!
"Wonderful tearoom full of charm"
Went with husband for a quick cup of tea……..saw the cakes and decided to stay longer! Huge selection of 'proper' teas, lovely home-made cakes and happy, enthusiastic staff.
"Afternoon coffee and cake"
My husband and I Enjoyed a visit to this quaint little tea room today, I have to say it didn't disappoint. They had an excellent range of home cooked cakes, I choose carrot and it was gorgeous! Staff were friendly and the prices were very reasonable. Will definitely be visiting again very soon!